The Gibson Hummingbird is getting a whole dedicated episode today. Why? Because the Gibson Hummingbird is one of the most iconic guitars, especially when it comes to its playability and aesthetic qualities.
This episode of Acoustic Tuesday will dive into the Gibson Hummingbird and how it redefined the artistic and aesthetic possibilities of the acoustic guitar. On top of that, I'll feature 5 awesome alternatives to the Gibson Hummingbird that are a little cheaper but still feature the must-haves of the Hummingbird.
If you've ever wondered why the Gibson Hummingbird is such a sought-after guitar, then be sure to watch this episode of Acoustic Tuesday!
As always, you can watch Acoustic Tuesday at 10 am every Tuesday in these four places:
This Week on Acoustic Tuesday
5 Reasons Why You Should Play a Gibson Hummingbird
This entire episode is dedicated to talking about the Gibson Hummingbird. I want to celebrate one of the most eye-catching guitars and talk about alternatives that still hold up to the Gibson Hummingbird.
To start this Hummingbird themed episode, I want to talk about the TOP 5 reasons why you should at least consider playing a Gibson Hummingbird.
Reason #1: All current Gibson Acoustics are made right here in Bozeman, MT
Now, I'm currently living in Bozeman, so there's a little bit of a bias, but I still think this is significant. The Bozeman factory has a very high standard for production, especially when making as many guitars as they do!
Supporting the local economy and builders/technicians in my community is always a plus. Be sure to watch the episode to see the inside look at Gibson's Bozeman factory!
Reason #2: Gibson's flagship square-shouldered dreadnought is the Gibson Hummingbird
Before 1960, there wasn't a Gibson square-shouldered dreadnought that was mass-produced. Martin seemed to dominate the market prior to 1960, but when the Gibson Hummingbird came out, it changed the market forever.
Differing from Martin's square-shouldered models, the Gibson Hummingbird had pizzazz and a completely different aesthetic look that has captured the hearts of guitarists for the last 50 years. When you pick up a Gibson Hummingbird, you're holding history…and I think that can't be ignored.
Reason #3: Aesthetics Trifecta
After talking about the square-shouldered design, I realized that the Gibson Hummingbird really captures an aesthetic trifecta. What do I mean by that?
The first thing that makes the Gibson Hummingbird a beautiful and balanced guitar in its looks is the split parallelogram inlays on the neck. The contrast between the classic, rigid lines of the inlay on the smooth rosewood neck is just awesome to look at.
The second notable visual quality on the Gibson Hummingbird is the cherry burst top. The color of the Hummingbird's top is unmistakable, copies widely, and is absolutely gorgeous.
The third quality that completes the trifecta is finely engraved pickguard. There's a little bit of a hippy-vibe, a country-vibe, and a nod to the beauty of the natural world. There are very few guitars that are so clean, classic, and iconic.
Reason #4: Comfort
You might have heard about the scale length of the Gibson Hummingbird, but if not, just now that this guitar is incredibly comfortable and suitable for players of all sizes.
The first thing that makes the Gibson Hummingbird is the scale length. The scale length is 24 3/4 inches as opposed to 25 1/2 inches on other dreadnoughts. The Gibson Hummingbird also a very slim nut-width. This allows the string spacing to be smaller, accomodating small hands and fingers.
The final thing that makes playing the Gibson Hummingbird incredibly comfortable to play is a slim, tapered neck profile. For a guitarist with smaller hands that wants the sound of a big-bodied dreadnought, you can't go wrong with the Hummingbird.
Reason #5: The Birth of a Gibson Series
Think of the Gibson Hummingbird as the lead domino in a trend of Gibson guitars. To me, the Hummingbird kicked off Gibson's dedication to birds.
It all started in 1960 with the Gibson Hummingbird. From there, we move to the Gibson Dove. After that, there was the Gibson Doves in Flight, the artistic take on the Gibson Dove. After that, we moved to the Gibson Firebird acoustic with phoenix engravings. Then, we move to the Eric Church Hummingbird model. And that's just the acoustic guitars dedicated to birds!
As a special little bonus, I found a SWEET article that talks about the engraver that created the Gibson Hummingbird design. Click here to read the article.
Link: https://www.kalamazoomuseum.org
Bluebird Cafe Documentary
While not absolutely related to the Gibson Hummingbird, I wanted to tell you about a documentary about a place called the Bluebird Cafe.
Now, besides both being birds (bluebird, hummingbird) these two topics have a tangential relationship. See, the Gibson Hummingbird is popular among singer-songwriters…and many singer-songwriters end up at the Bluebird Cafe — you following me?
This documentary about the iconic cafe has just been released. I highly encourage you to check out this awesome feature about an unforgettable place.
There are artists from Taylor Swift to Garth Brooks that had big-breaks at the Bluebird Cafe.
In fact, our own Tony's Acoustic Challenge member Eryn Michel won a songwriting competition and had the chance to play the Bluebird Cafe — watch the episode to see her perform! Thanks, Eryn, for letting me feature you in this episode!
If you want to know more about the Bluebird Cafe, be sure to watch the documentary or visit their website today!
Link: https://bluebirdcafe.com/
Now, I struggled with adding this group to this episode — mostly because they aren't entirely an acoustic-only group!
But, I figured it was worth it to include these incredible musicians on Acoustic Tuesday. If you like southern rock, something that's similar to the Allman Brothers or the Black Crows (with a little folk added in), be sure to check out Blackberry Smoke.
Now, in the video above…did you notice the guitar that singer Charlie Starr is playing? Yep, that's right! He plays a beautiful Gibson Hummingbird.
Blackberry Smoke has a classic sound that seems to sit in the cracks between folk and southern rock.
The instrumentation is awesome, as well. Their percussionist doesn' even play drums or a Cajon! That's right, he's playing a modified guitar with tons of percussive elements.
Before we move on, I want to leave you with a beautiful song written by Blackberry Smoke called "Aint Much Left of Me." I love this song especially because there's so much classic harmony that is totally rooted in '60s/ '70s rock.
3 non-Gibson Hummingbirds
Upon researching, I had a hard time finding exact clones of the Gibson Hummingbird. There's plenty of slope-shouldered options, but very few square-shouldered options.
Nevertheless, I've dug up some good alternatives to the Gibson Hummingbird, just in case you want to try something that is not a Gibson per se.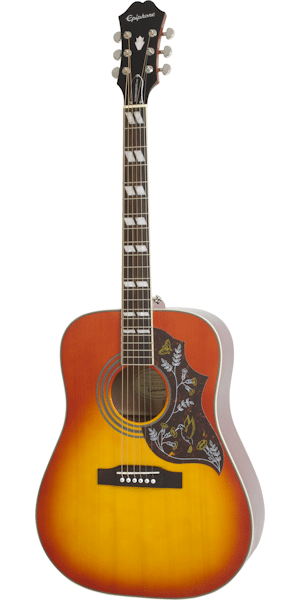 For those of you who don't know, Epiphone is a brand of Gibson. Epiphone offers a lot of Gibson models that are similar in style, just made with typically cheaper materials.
The Hummingbird Pro by Epiphone absolutely holds its own. While it doesn't have the same resonance that the Gibson model does, it's about as close as you can get in the aesthetics department without being an outright copy.
#2 Martin D18-SS
Last week we covered how awesome the D18 was…but imagine the D18 just with a short-scale neck!
This Martin D18-SS is very similar to the Gibson Hummingbird, but is just the Martin version. It has the signature Martin tone, but unfortunately, this guitar has been discontinued. You can still find this guitar, but it's not a stock option.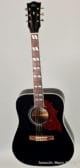 For a truly beautiful instrument that almost seems like a tonal improvement of the Gibson Hummingbird, you can't miss The Bird.
I've had the chance to meet the builder, Kevin Kopp, multiple times. I am so impressed with his craftsmanship, and I highly recommend everyone to give Kopp guitars a try if you can!