In this post, I'm going to show you how to tune a guitar and share a few reliable tips to help you get the hang of it.
In fact, these are the same techniques I've been using for my entire musical career.
Each method of tuning a guitar has its use, depending on the situation.
To make things easy, I'll tackle tuning your guitar in three sections:
Theory and tips
Tuning a guitar with a tuner
Tuning a guitar by ear
If you're ready to start playing, learning, and having fun, I want to tell you about Tony's Acoustic Challenge.
It's my awesome, daily practice program that will transform your playing when learning guitar.
If you don't believe me, check out this video — I'll let it speak for itself.
Let's kick things off with some simple background you should know before you learn how to tune a guitar.
Originally published on March 22, 2019, this post was republished on September 20, 2022.
3 Secrets to Learn Guitar In Just 10 Minutes Per Day
Did you know that only 10% of guitar students still play after the first year?
Watch the webclass to learn 3 things the 10% are doing to learn guitar fast and build a life of consistent guitar playing.
Tuning Theory
I talked about the musical alphabet in a previous lesson on guitar notes, but here's a quick recap:
The musical alphabet has the letters A, B, C, D, E, F, and G
The strings on a guitar are, from thickest to thinnest, E-A-D-G-B-E
The letters by themselves are called naturals.
In addition to naturals, there are also flats and sharps.
If there is a "b" symbol next to a natural, that means that the note is flat.
Alternatively, if a "#" symbol appears next to a natural, that means the note is sharp.
When using a clip-on tuner or a tuner with a microphone, there are a few ways to tell if your strings are sharp or flat:
Most tuners have lights that will indicate whether your string is sharp or flat.
If the light is going off on the right, that means your string is sharp.
When the left side lights up, that means your string is flat.
How to Tune: Tip #1
Make sure you're tuning the right string.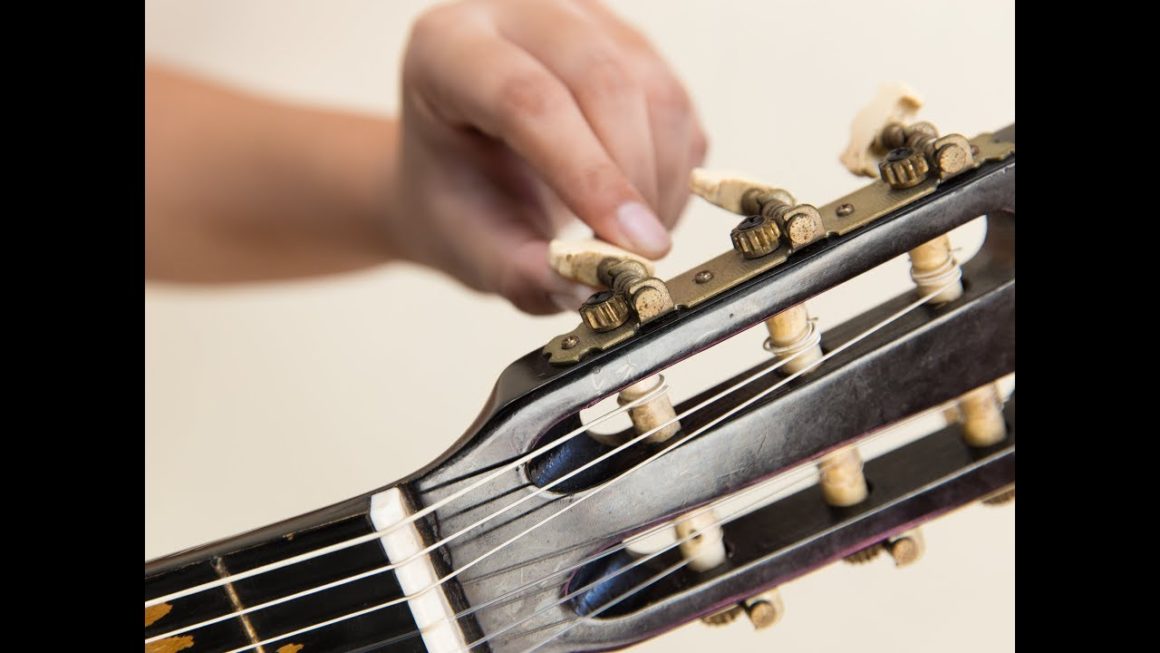 I know that sounds silly, but people frequently turn the wrong tuning key.
To help prevent that, make sure to follow the string you want to tune all the way to its respective tuning key.
Always make sure to double-check that you're tuning the same string that you're turning the tuning key for.
How to Tune: Tip #2
Don't be afraid to use common sense.
If the string feels too tight or it sounds too high, it probably is.
If that happens, don't be afraid to loosen the string by tuning it down. From there, you can start over.
I always encourage folks to play around with the tuning keys. Don't be afraid to turn them — make sure you know how much the pitch changes when you turn the tuning key.
How to Tune Tip #3
Tune up to a note instead of down from a note.
When you tune up to a note, it helps the string stay in tune longer.
If you're tuning a string that's too sharp, try tuning down below the target first, so the note becomes a little flat. Then tune back up to reach the correct note.
How to Tune an Acoustic Guitar With a Tuner
There are hundreds of different electronic tuners you can buy. We're talking clip-on, handheld, smartphone, and so many more types of tuners.
Regardless of what kind you choose, you can get a decent-quality tuner for around $15-25.
When you get an electric tuner, make sure to calibrate it.
Turn the tuner on.
If it displays a series of numbers, make sure it says A 440 Hz.
When there are different numbers, consult the instructions to change the frequency.
If there are no numbers displayed, your tuner is most likely permanently set on A 440 Hz.
If you don't calibrate your tuner, you will sound slightly off from everyone else who is in tune.
Here's how to tune your guitar with an electronic tuner:
Get on the right note names: Make sure the tuner displays the correct note name for each string. That means each string is approximately at the right note. For example, you want the low E string to show as an "E" on the tuner, even if it's still out of tune.
Fine-tune: Once the string is displaying the right note name, begin to fine-tune until the needle on your tuner is in the middle – or the tuner turns green.
Check the strings again: Once you tune all of your strings, go back and check that each string is still in tune. Learning how to tune a guitar requires double-checking because a string may have slipped out of tune as you adjusted a different one.
How to Tune an Acoustic Guitar by Ear
Learning how to tune a guitar by ear can help develop your ear and allow you to tune when you don't have an electronic tuner.
As long as one of your strings is in tune, you can use a method of tuning by ear that has been used by thousands, if not millions, of guitarists.
Tuning a Guitar From the 5th Fret
To tune your guitar using the 5th fret, you need your low E string to be in tune. You can use another guitar, a piano, or an electronic pitch.
How to Tune a Guitar by Ear Using the 5th Fret:
Make sure the low E string is in tune using another source
Fret the 5th fret of the E string and play an A note
While that note is ringing, pluck the open A string
These two notes should sound exactly the same
Adjust the open A string until it matches the pitch of the A note played on the low E string
Continue the same process to tune strings D and G, tuning each string to match the note on the 5th fret of the string below
Tune the B string to match a B note played on the 4th fret of the G string
Tune the high E string to match the E note played on the 5th fret on the B string
NOTE: The B string is a little different than the others. Fret the 4th fret of the G string to get a B note — play that pitch against the open B string. All the other strings can be tuned to match the 5th fret of the string below.
What's Next?
Now that your guitar is in tune, you're ready to play! You might also want to explore some other alternative tunings such as open C tuning, drop D tuning, and open D tuning.
If you're not sure what to play yet, maybe you need some inspiration and ideas to get you practicing and having fun with your guitar.
I've created a method to help you build consistency and lifelong enjoyment of guitar. If you're new to the guitar or shaking off a few years of rust… you NEED to check out Tony's Acoustic Challenge.
Watch this FREE guitar class for three secrets to learn guitar faster in just 10 minutes a day.