The Yamaha FS800 is one of the best beginner guitars on the market.
When new guitar players and students ask me for a beginner guitar that they can get on the cheap, I always recommend the Yamaha FS800.
Considering its price range, versatility, and size, this guitar cannot be passed up as one of your first guitars.
If you're serious about finding the best beginner guitar for you, be sure to keep reading. In addition, I also created a list of the top 5 beginner guitars for under $500 that you can read here.
If you'd rather scour the internet for thousands of reviews, go right ahead…but, here's why you should trust me.
I've reviewed close to 1,000 guitars.
I used the same…
songs, licks, and chords
Mic set-up
EQ levels
Alright, enough about me. Let's go ahead and dive into the Yamaha FS800 review.
My Thoughts on Yamaha
Here's the thing:
People tend to write-off Yamaha for being low-quality because of the price of their guitars…
But honestly, I think they provide excellent products at their respective price points.
Specifically, Yamaha's FS series of guitars is incredibly strong.
Debuting about 50 years ago, the FS series was created to provide an affordable, quality experience in the beginner guitar market.
Today, Yamaha has plenty of different offerings in the beginner guitar market, and one of the strongest ones is the FS800.
If you're looking for a slightly larger guitar, the FG800 is an excellent option (I'll talk about this later, too!).
Yamaha FS800 Rundown

I still remember the first time I played the Yamaha FS800 for a review.
I was shocked by how good it sounded.
Why?
That's right. $200.
The FS800 is really a great beginner guitar because it has some good craftsmanship behind it.
Does it sound like a $2000 guitar? No. But, it sounds like an incredible guitar for its price.
Here are some features that I really love about the Yamaha FS800:
Solid spruce top
Rosewood bridge
Tusq saddle
Sunburst finish on the top
Black binding on the top and back
Laminate back and sides
The solid spruce top makes a huge difference in this guitar.
Compared to laminate tops, solid-wood tops have a greater resonance and tone. Typically, this means they cost more; but, Yamaha seems to have circumvented this problem for now.
The laminate back and sides do detract from the overall sonic quality of the instrument, but the use of those materials makes the guitar way more affordable.
While there may be some minor drawbacks, like the laminate back and sides, the guitar is still very beautiful.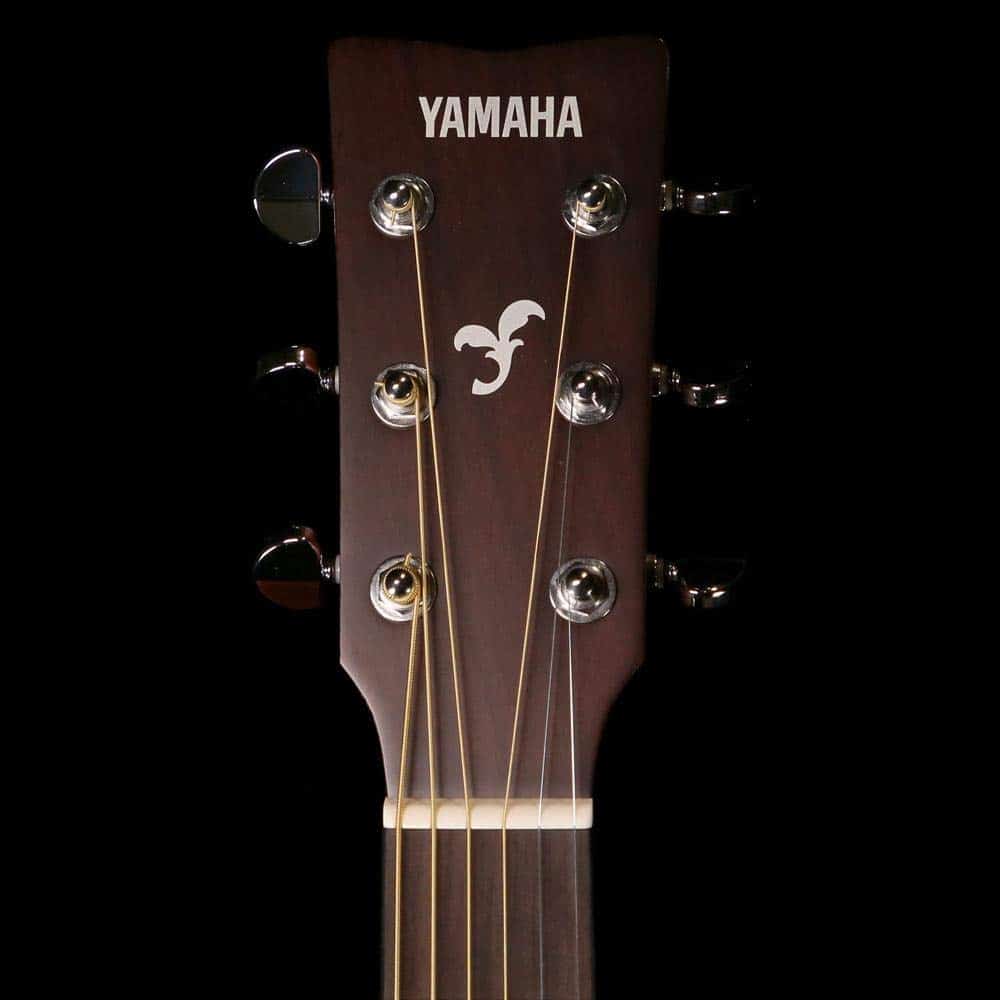 The headstock is the classic "Y-shape" Yamaha-style headstock. Additionally, the tuners work exceptionally well and mimic the Grover Rotomatic tuners from the '60s and '70s.
Can the FS800 Go Electric?

One of the coolest thinks about the Yamaha FS800 is its acoustic-electric configuration.
For just $100 more, you can choose to have an under-saddle piezo pickup. This means your guitar will have…
3-band EQ
Adjustable mid-range frequency control
Precision chromatic tuner for optimum sound tailoring
For just a little more, the Yamaha FS800 becomes totally more versatile than its acoustic-only counterpart.
Yamaha FS800 Versatility and Comfort
In addition to the excellent materials used in the Yamaha FS800, I also love the size and profile of the instrument.
Shallow neck profile
Narrow string spacing
Small body size
While I normally recommend the bigger version, the FG800, the FS800 is great for smaller beginner guitar players.
Because the neck isn't thick, you'll be able to wrap your hand around it easier. In addition, the strings are a little closer together, so you won't need long fingers.
Also, everything that makes this guitar great for smaller guitarists holds true for folks with physical issues like arthritis.
Finally, this guitar is a no-brainer as a beginner guitar for someone who needs to travel frequently.
The small body size allows for flexibility in storage, and it is perfect for anyone who likes to hike or camp with their guitar!
If you have trouble playing a dreadnaught, a normal concert-sized guitar, or even a travel guitar, you should seriously consider looking at the Yamaha FS800.
What about the Yamaha Bracing?
I don't know if you guys heard, but Yamaha recently changed the bracing style they use in their guitars, including the Yamaha FS800.
Now, if you don't know what bracing is, think of it as the inner pieces of wood in a guitar that fortify the guitar and help it resonate.
Yamaha now does scalloped bracing.
This makes Yamaha's guitars much more responsive.
That means that when you strum this guitar, you can get quite a bit of volume and articulation from such a small body.
Yamaha FS800 vs. Yamaha FG800
Think of the Yamaha FS800 as the smaller brother of the FG800. While both use the same quality materials, the FS800 is a smaller-built guitar and geared towards younger players.
If you want a full-size guitar and don't have any need for portability, the Yamaha FG800 may be a better guitar for you.
Otherwise, the FS800 makes a great, portable, versatile guitar that is virtually the same as the FG800 except for the size difference.
Closing Thoughts
I've been teaching students for almost a decade. Time and time again, I am recommending the Yamaha FS800 to younger students, smaller-frame students, disabled students, and students who need a portable guitar.
I know folks who have never stopped playing their Yamaha FS800s, primarily because they sound great, they're durable, and they're great for learning new songs.
At the end of the day, see if you can get your hands on a Yamaha FS800 before you buy it. While the investment isn't large, it's always nice to know if you like the sound or not.
And finally, if you need some guitar lessons after you've purchased your new guitar, be sure to check out Tony's Acoustic Challenge.
Built by guitar geeks for guitar geeks, Tony's Acoustic Challenge is one of the best ways to build a sustainable practice routine to help you live your best acoustic life.
To learn more, visit Tony's Acoustic Challenge today and request your invite!